Insights from a recent Regreening Africa Roundtable 
By *Sandiso Matshikiza
Two-thirds of the land in sub-Saharan Africa is highly degraded, threatening the livelihoods of those dependent on it —a staggering 83% of the region's population. Agroforestry has been used to successfully reverse land degradation in many different areas in Africa, but scaling these practices up across the continent remains a major challenge.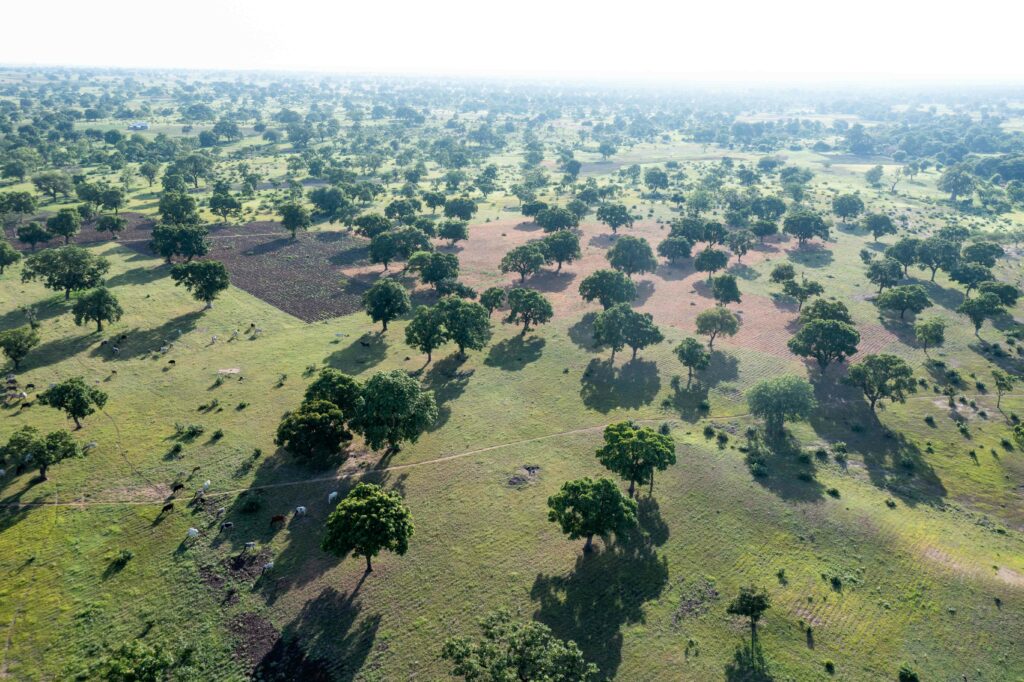 An overview of a landscape. Photo: Regreening Africa/Kelvin Trautman 
Regreening Africa was launched by the European Union in 2018 as a large pilot to test how to overcome this challenge at scale. Run by World Agroforestry in partnership with implementation partners and the communities it operates in, this ambitious research in development project deploys a range of land and soil restoration techniques that promote the growing of trees in croplands, communal and where appropriate pastoral areas to restore ecosystem functions and thus livelihoods. By the end of 2022, Regreening Africa is expected to have reversed land degradation on one million hectares across eight countries in East and West Africa: Kenya, Senegal, Rwanda, Ghana, Ethiopia, Mali, Niger, and Somalia.
With this deadline approaching soon, the Regreening Africa team and their community of stakeholders – donors, implementation partners, government representatives, associate researchers, farmers, business owners, and influencers – recently gathered virtually to reflect on the lessons and insights learned over the past 5 years. Three themes were under the microscope: Scaling out context-based practices, the Regreening Africa science-practice-policy partnership, and Economic and policy incentives
So, what has been learned? Was the pilot successful? And do these lessons bring hope to those who dream of restoring hundreds of millions of hectares across Africa?
Yes, it is possible to achieve large-scale, impactful restoration – when governments and other stakeholders are aligned behind a common restoration vision. Take the Ethiopian effort, where a team led by Catholic Relief Services and World Vision involving communities, local experts and government is restoring 110,000 hectares. This has led to increased vegetation cover and greater biodiversity across many tens of thousands of hectares already. While every one of the 8 Regreening Africa countries is unique, in most, a similar hopeful dynamic is observed.
There is no one-size-fits-all approach to restoration. Regreening practices need to be aligned with unique local contexts, both as they are now and in the changed future the climate crisis will bring. In addition, implementation needs to be embedded in local processes and structures. In Senegal, for example, World Vision is leveraging agroforestry practices like Farmer Managed Natural Regeneration (FMNR) and relying heavily on government support on its journey to restore 160 000 hectares.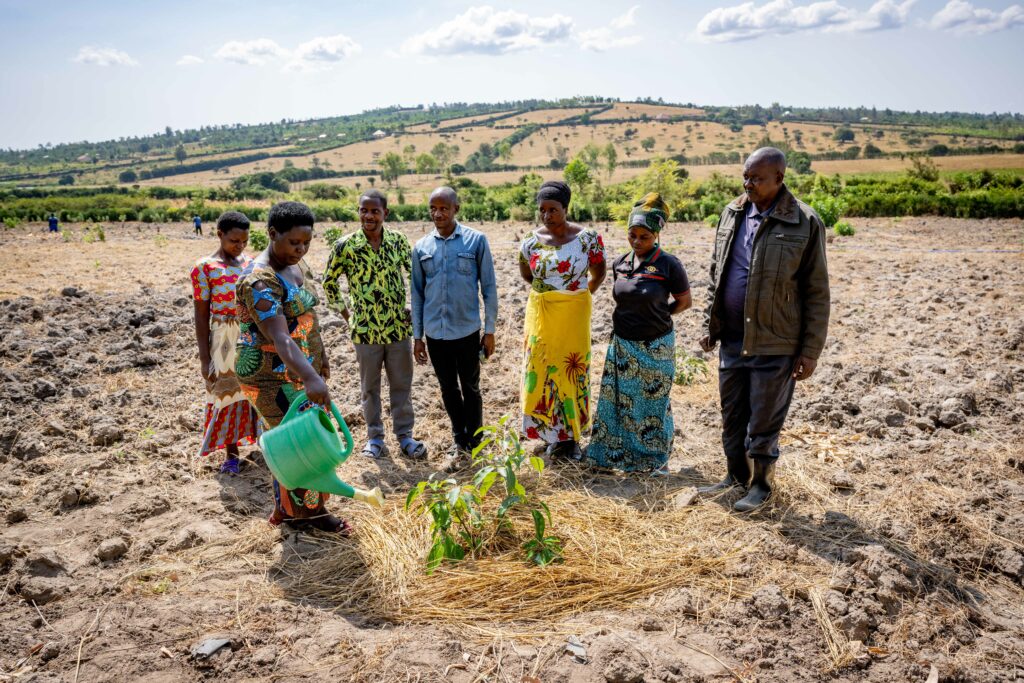 A farmer watering a tree seedling that has been mulched. Photo: Regreening Africa/Kelvin Trautman
Integrating science, research, evidence and monitoring in restoration agendas across scales increases and speeds up impact. Regreening Africa has deployed the Regreening Africa App, a popular citizen science tool, and blended it with the Land Degradation Surveillance Framework, a suite of scientific tools that can provide unparalleled insights into soil and land health status across the continent, to monitor development and impacts in near real-time, allowing ongoing fine-tuning of project interventions.
Science-practice-policy collaborations are essential to scale regreening efforts across sub-Saharan Africa. Without strong partnerships between government, community, development actors, researchers and donors, evidence cannot be brought to bear, communities and local authorities receive conflicting signals, and no matter how well-intentioned, interventions cannot scale.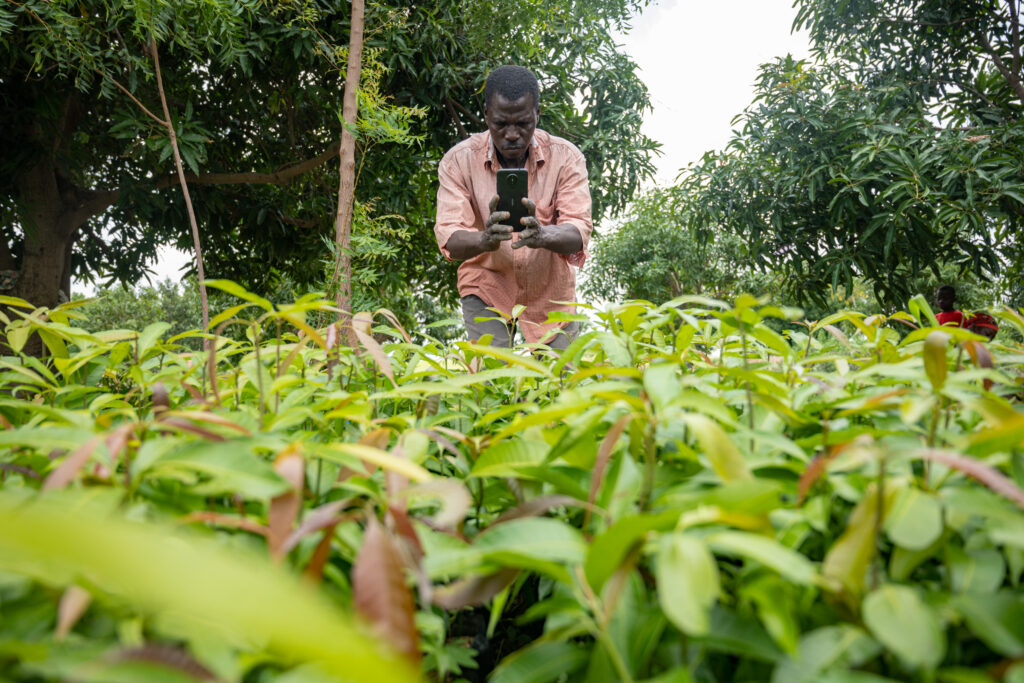 A farmer using the Regreening Africa App. Photo: Regreening Africa/Kelvin Trautman 
Equitable incentives are an excellent benefit and motivator for those involved in landscape restoration. Farmers, pastoralists and communities will invest significant resources like labour and capital in land restoration efforts if they can see these efforts bringing higher returns than the status quo. That means higher crop production and more tree products to sell and depends crucially on the assurance that these trees are, and will remain, theirs to use as they see fit. Economic benefits and land and tree use rights are by far the most popular incentives deployed by Regreening Africa.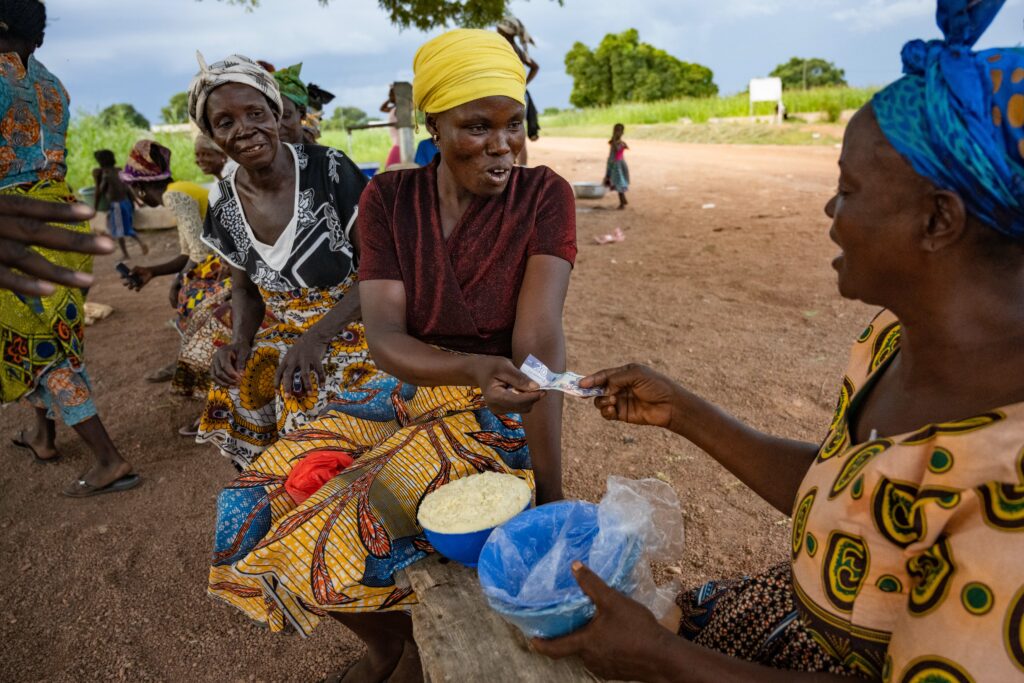 Women selling shea butter. Regreening Africa/Kelvin Trautman
Looking to the future and contemplating what we can take from the past half-a-decade of Regreening Africa into the next phase or even future initiatives, 3 reflections by the participants stood out strongly.
I hope that the principles, knowledge-sharing and networks arising from this project can be used to support the #GreatGreenWall movement in the future." –Elvis Tangem, Coordinator of the Great Green Wall initiative at the African Union.
For another participant, the Regreening Africa project had revealed "the importance of leveraging local policies and advocacy as anchors for successful regreening movements." –Niclas Gottmann, Policy Officer, DG INTPA, European Commission.
Lastly, Founder and Executive Director at One Vision Kenya, Milton Oboka, advocated for the involvement of youth as leaders at the forefront of development initiatives in the restoration space. Oboka argued that "as the beneficiaries of such initiatives, youth should not only be brought in at the implementation stages but should lead from the initial design stages too." –Milton Oboka, Founder, One Vision Kenya
*Sandiso Matshikiza is a Campaign Manager with Treeshake
This story was produced with the financial support of the European Union. Its contents are the sole responsibility of Regreening Africa and do not necessarily reflect the views of the European Union.