By *Mwabi Jere and Marion Aluoch 
Farmer Managed Natural Regeneration (FMNR) is the systematic regeneration and management of trees and shrubs from tree stumps, roots and seeds. These regrown trees and shrubs increase landscape tree cover, resulting in greater carbon sequestration, biodiversity and an increase in soil nutrients like nitrogen.
Regreening Africa, with the support of World Vision and World Agroforestry (ICRAF), is in the fifth year of scaling up FMNR activities in the Kaffrine, Kaolack and Fatick regions in Senegal. Data from the ICRAF monitoring component has shown that 32,202 hectares are under land restoration practices, helping to improve livelihoods, food security and resilience to climate change by restoring ecosystem services through agroforestry.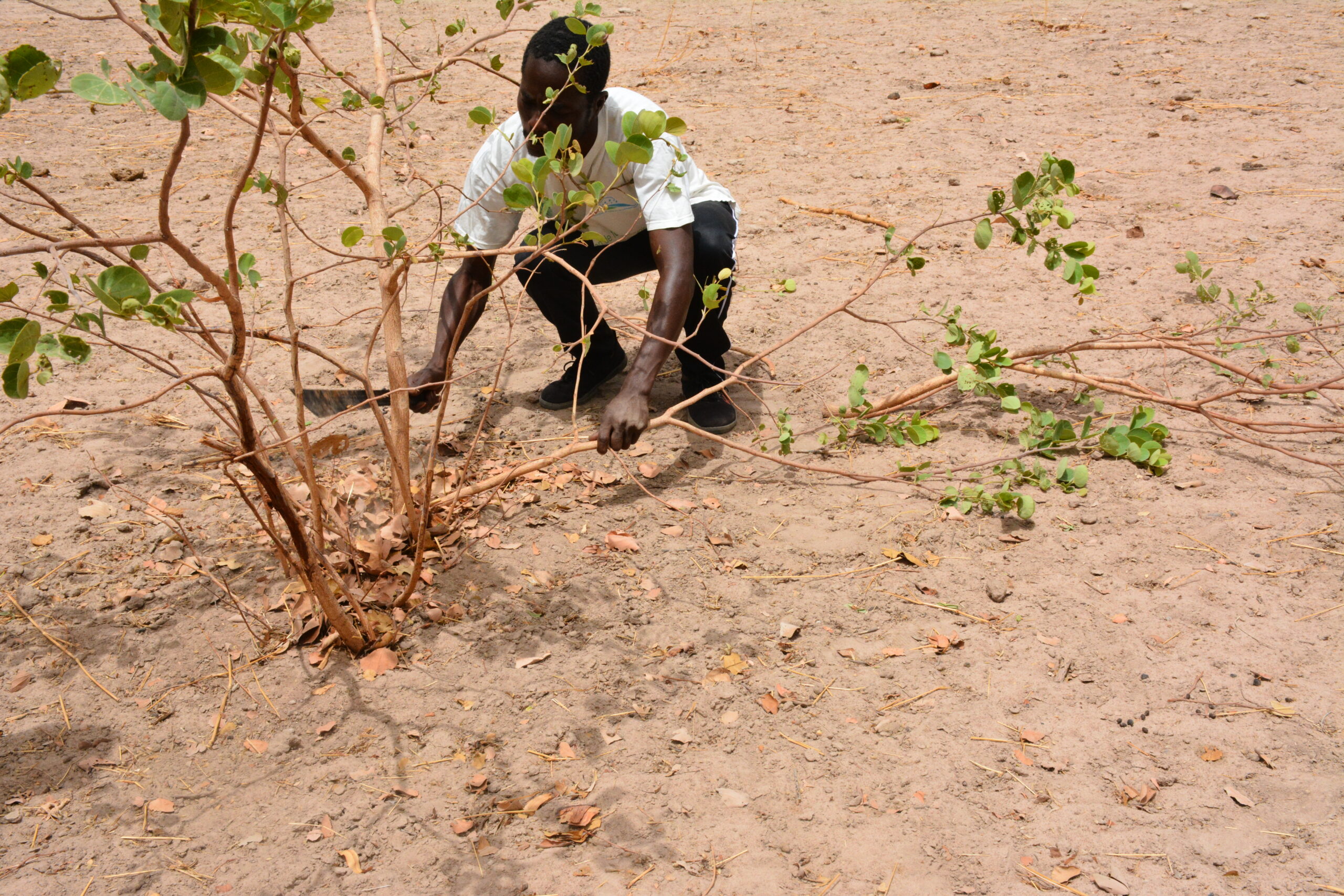 Samba Seyk is a farmer from Ndiawara (in the commune of Diockoul Mbelbouck in Senegal) who practices Farmer Managed Natural Regeneration (FMNR) on his farm. Here, he demonstrates how FMNR is done – he has mostly Compretum and Faidherbia tree species on his farm which he treasures! (Photo: Regreening Africa/Marion Aluoch)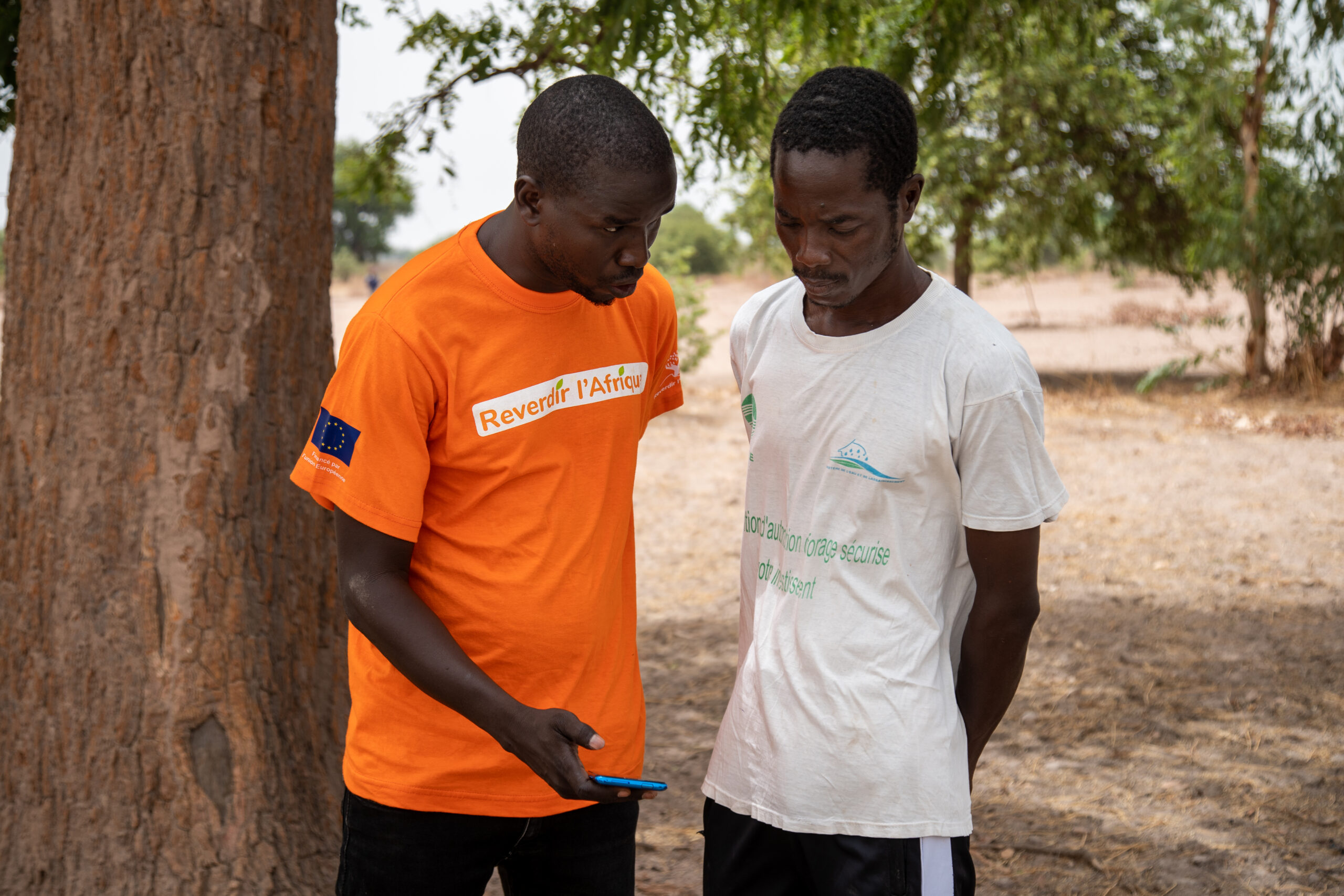 Lai Ndao (in an orange t-shirt), a Regreening Africa project field team member, explains how the Regreening Africa App works to Samba. (Photo: Regreening Africa/KAND Collective)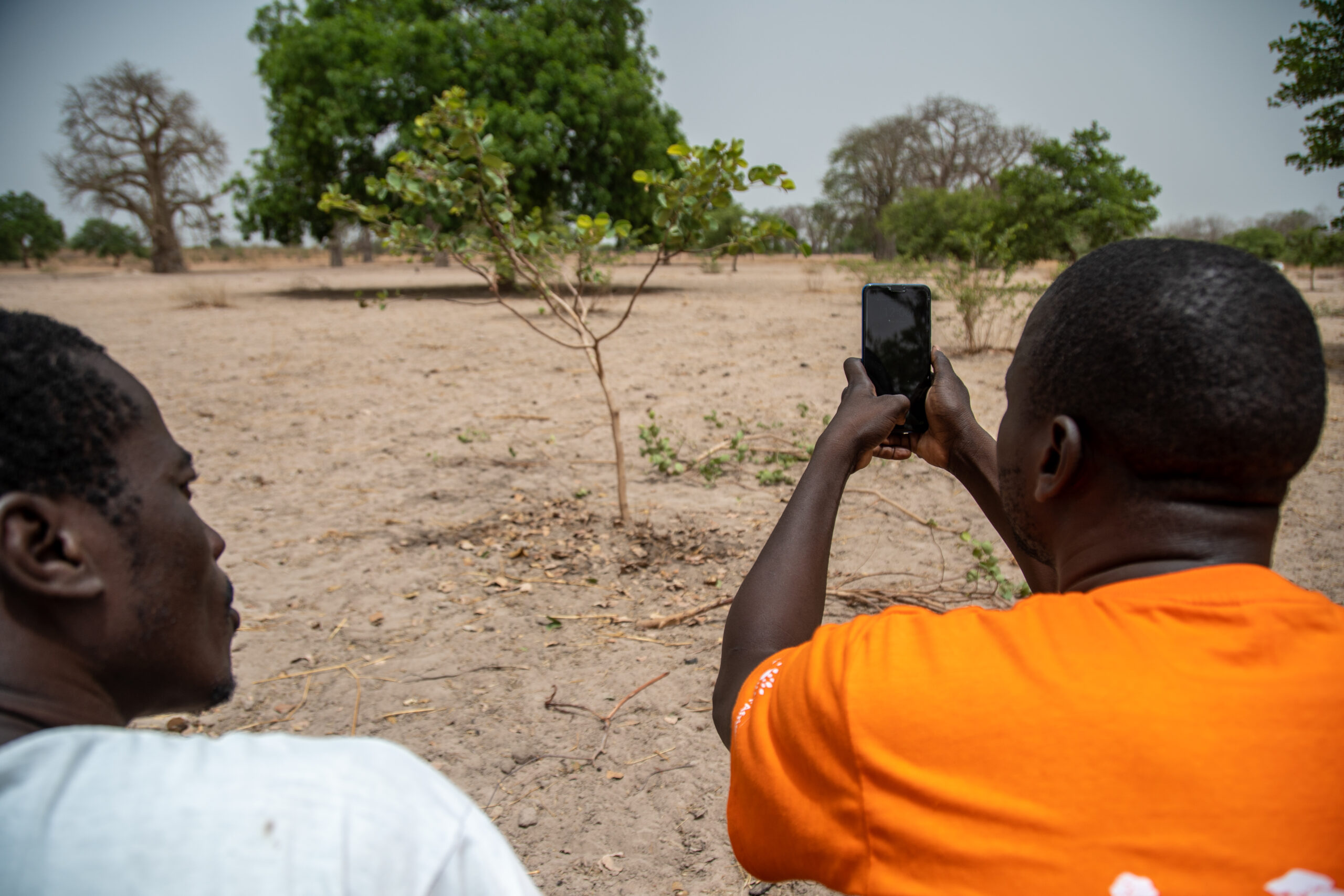 Using citizen science, the app captures data at local level through farmers and implementors like Lai. Lai is a focal point in 34 villages in the region, including Samba's village. The field team facilitates activities including monitoring at community level. (Photo: Regreening Africa/KAND Collective)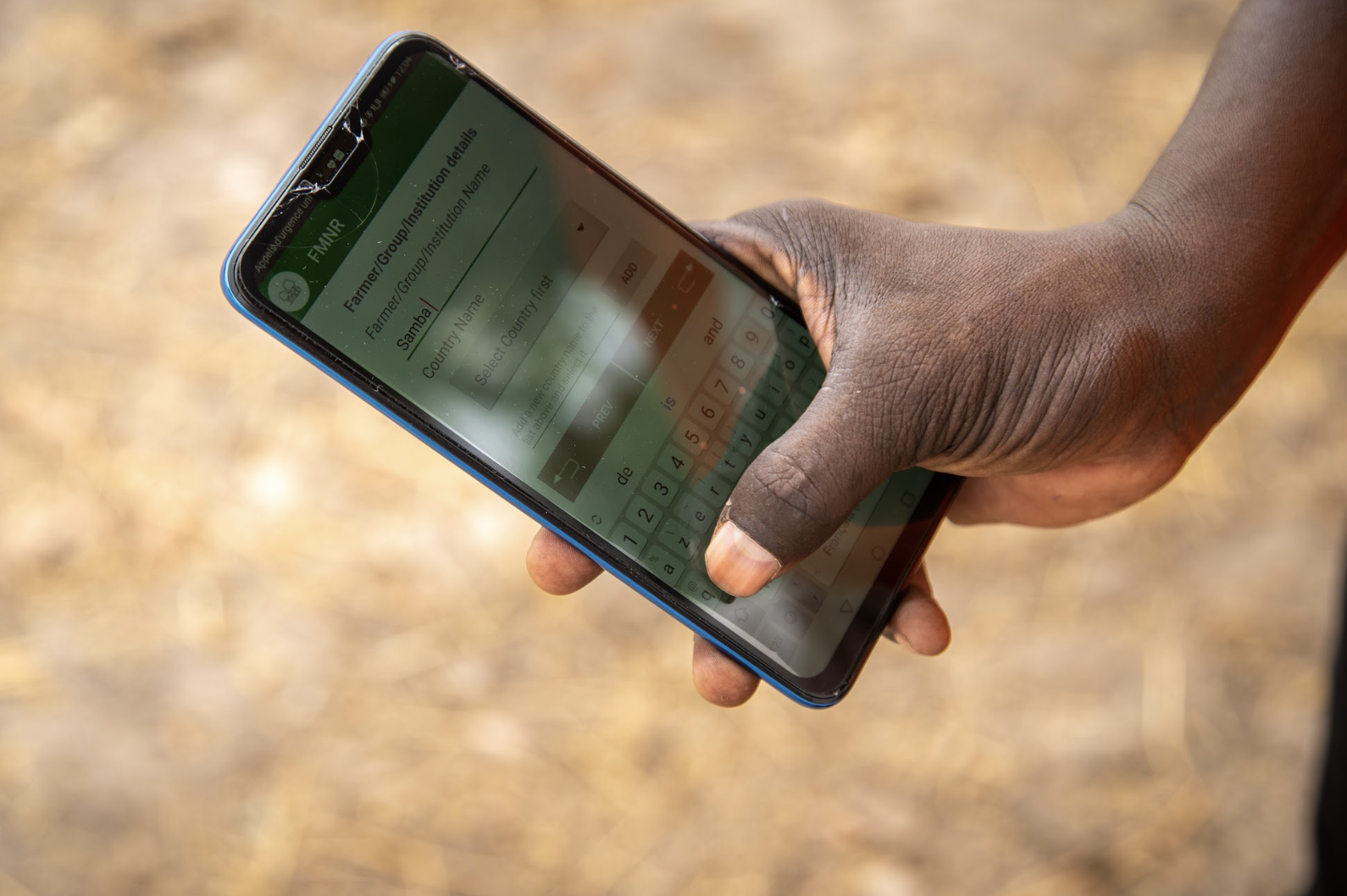 A view of Samba's FMNR module on the Regreening Africa app. The app has 4 modules – Tree Planting, Nurseries, FMNR and Training. For the FMNR module, the app provides a unique way to capture details at farm level on on restoration activities, characterise dominant species composition and assess practices. (Photo: Regreening Africa/KAND Collective)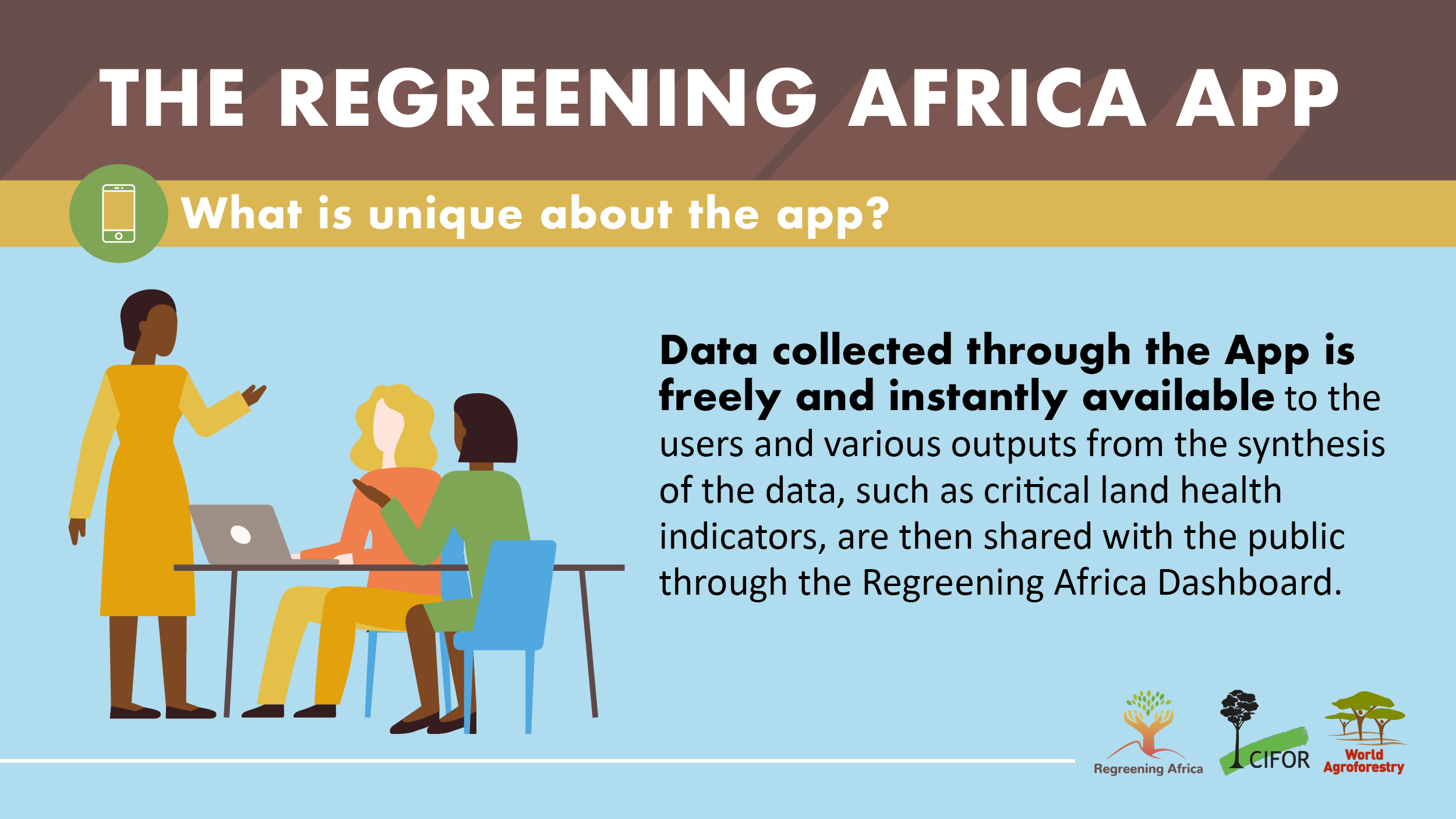 The Regreening Africa App is a free android mobile application designed and developed by ICRAF to assist partners and users in gathering data on how farmers manage and protect trees on their farms. The app connects the land restoration efforts of farmers and pastoralists to large global initiatives, providing data that can positively inform these efforts while simultaneously assessing the effectiveness of these efforts on the ground.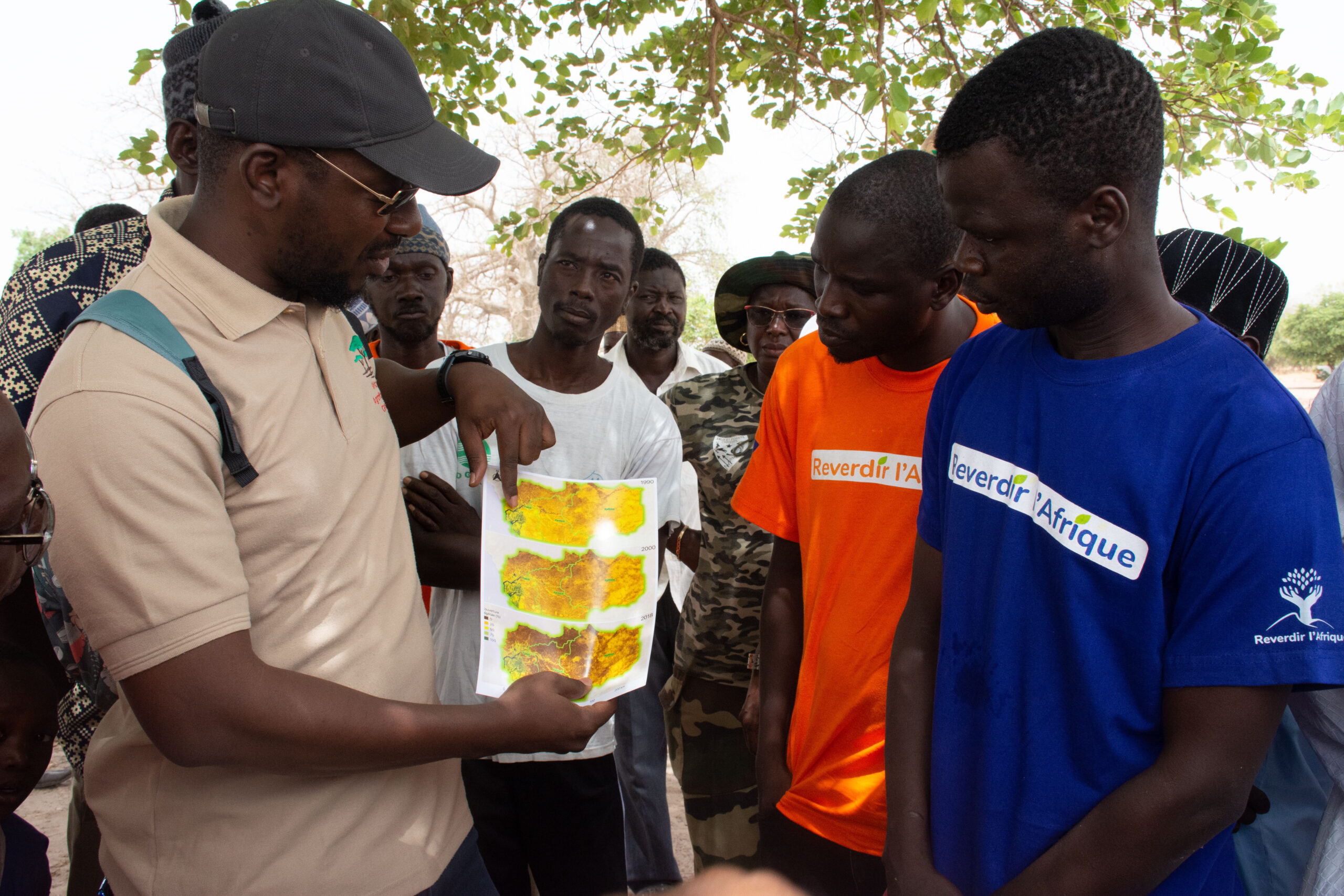 Samba looks on as an ICRAF staff member demonstrates to the community a map on soil and land health. Data on land and soil health is collected in the field and analysed to understand drivers of degradation, prioritise areas for implementation of interventions and monitor changes over time. (Photo: Regreening Africa/Marion Aluoch)
Additionally, partners are trained in systematic field data collection using the Land Degradation Surveillance Framework (LDSF) and data interpretation. The LDSF is designed to provide a biophysical baseline at landscape level, and a monitoring and evaluation framework for assessing processes of land degradation and the effectiveness of rehabilitation measures over time.
"Trees are important because they are the climate resilient and act as windbreakers," says Samba. "Without trees, it does not rain much. And when it does, trees help to stop soil erosion. The leaves are important too as they fertilize the soil and keep it healthy."
FMNR focuses not only on restoring degraded land but also on changing the mindsets and behaviours of individuals and communities. This entails addressing harmful beliefs about trees and the environment and developing a new perspective: cooperating with nature yields more productive and long-term results. As a result, FMNR is a potent tool for social change and the promotion of environmental values.
*Co-authored by Mwabi Jere, a communications manager with Treeshake, social marketing consultancy for changemakers.