Presentation from each of the 5 themes on the key recommendations/ and action plan arising from the theme
Restoration approaches and practices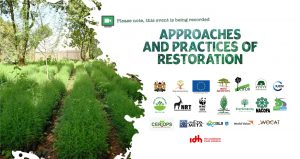 General Objectives:
Outline key approaches for ecosystem restoration in key Kenyan ecosystem restoration domains and elucidate challenges and opportunities therein.
Developing action plans for the creation and development of action groups to sustain the groups in each of the domains.
Specific Objectives:
Identify what is working well and why it is a good opportunity.
Identify opportunities to integrate restoration in the ecosystem plans.
Outline capacity development approaches for all actors in the restoration domains.
Entrepreneurship and business approaches in restoration
Objectives
Recruit the private sector to climate action and climate finance by showing what is possible (sharing lessons learnt as well as showcasing opportunities) to support landscape restoration through corporate shared value.
Identify opportunities, bottlenecks and challenges faced by businesses involved in restoration e.g. (livestock challenges, chemical use, rules and regulations including those barring establishment of water producing infrastructure and woodfuel value chains).
Facilitate a platform for private sector actors to network and interact with other actors who can provide advice on how to plug into landscape restoration.
Enhancing visibility for private sector actors engaging in restoration
Youth and women inclusion in restoration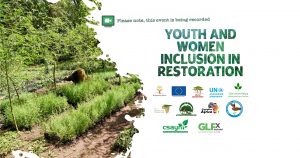 This session provided recommendations on how women and youth can be meaningfully engaged in restoration. 
Recommendations
Promoting youth and women participation in decision making processes linked to restoration
Incentives for promoting women and youth participation in restoration
Restoration financing
Networking for learning and experience sharing
Capacity building
Watch the conference closing session webinar