By Yvonne Baraza
The African nation is pushing ahead with an ambitious goal to optimize use of bioenergy, supported by World Agroforestry (ICRAF).
Bioenergy is an important form of energy in Kenya, contributing 68% of the country's final energy demand for diverse needs, especially cooking and heating. As a renewable energy source, it can contribute to energy security in the country as espoused in the National Energy Policy (2018) and Energy Act (2019) and to meet the country's other national goals covered under Vision 2030 — such as agriculture, health and commerce — for which energy is an enabler.
Bioenergy can also support the country in meeting its global commitments, such as its Nationally Determined Contribution under the Paris Agreement, Sustainable Development Goals (SDG) including SDG 1 on poverty reduction, SDG 3 on improved health and wellbeing, SDG 7 on sustainable energy; SDG 13 on climate action; and SDG 17 on partnerships for development.
Yet despite its significance for the country's growth, bioenergy development from biomass resources has not received the attention it deserves to optimise its contribution.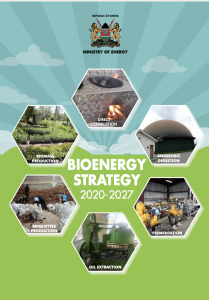 On 18 November 2020, the Government of Kenya through the Ministry of Energy, together with partners, launched the Kenya Bioenergy Strategy 2020–2027. Bioenergy is the largest source of renewable energy globally, providing heat and electricity, as well as transport fuel. In 2017, 55.6 EJ of biomass was utilised for energy purposes; 86% of this was in the form of primary solid biofuels, including wood chips, wood pellets, fuelwood for cooking and heating.
To ensure that the use of bioenergy resources is optimized, the Ministry of Energy with the support of other partners, including the World Bank, Deutsche Gesellschaft für Internationale Zusammenarbeit and World Agroforestry (ICRAF) developed the Bioenergy Strategy, which will provide a road map for the country to manage and sustainably harness its bioenergy resources during 2020–2027. The process of developing the strategy was consultative and participatory, beginning in early 2019. It involved various actors from civil society, academe, ministries and state agencies, development partners, the Council of Governors and the private sector.
The Strategy aims to address the strengths, gaps, opportunities and foreseen challenges to enhance sustainable exploitation of the biomass resource. It will go a long way in supporting the realization of the full potential of bioenergy in Kenya. The Strategy will support the development of bioenergy as a complementary energy source in the medium term and, in the long term as an alternative to fossil fuels. Its implementation is the first step towards achieving the aspirations of Kenyans to have modern bioenergy solutions by 2028.
ICRAF stands with the Government of Kenya and partners to optimize the benefits of bioenergy and arrest loss of critical ecosystem services. ICRAF's system approach is in line with the Strategy. ICRAf's support includes forest and landscape restoration, agroforestry (in line with the minimum 10% tree cover target), waste-to-energy interventions, energy-use efficiency, climate-change impact assessment, mapping biomass and capacity development.
'ICRAF is committed to supporting this noble strategy,' said Catherine Muthuri, ICRAF Regional Coordinator for Eastern and Southern Africa Region. 'As part of the team that developed it, we appreciate the collaboration with the Ministry and other teams. We are also grateful to the CGIAR Research Programme on Forests, Trees and Agroforestry for supporting the Strategy through its flagship activity on bioenergy in Kenya and Africa at large.'
The strategy is being launched at a time when the world is turning its attention to health concerns attributed to cooking fuels, both at household and institutional levels. Kenya is a testimony to these, with respiratory-related diseases comprising 25% of the total burden of disease reported by the Economic Survey in 2019. The Strategy also comes at a time when a range of financing opportunities are available locally and internationally in favour of clean cooking and climate finance. It is also noteworthy that energy-intensive industries are switching from furnace oil to biomass to power their boilers. It is incumbent upon responsible stakeholders to ensure that an enabling environment for investment is established and nurtured for the vision of sustainable bioenergy for all citizens to be a reality by 2027 and beyond.
'Kenya has taken the lead and we have no doubt other African countries could soon follow,' said Lalisa Duguma, a scientist at ICRAF who coordinated the support for the Strategy.
He argues that Africa, through ecosystem restoration, could catalyse a win-win strategy with energy supply through ecosystem restoration and efficient use of available wood material. Referring to his recent work on regenerative energy supply options in Africa, the researcher urged other governments to take a bold step like Kenya's and adopt sustainable energy generation strategies that are less detrimental to the environment and people.
Watch the launch of the Kenya Bioenergy Strategy here.
In the news
Standard Media Kenya: Kenya's Ministry of Energy unveils bioenergy strategy
Kilimo News: Kenya launches the Kenya Bioenergy Strategy
KBC Channel 1: Bioenergy: Govt. targets clean cooking for all within eight years 
Alliance for Civil Society Organizations for Clean Energy Access: Kenya launches its bioenergy strategy
Also read
Governing Multifunctional Landscapes project
Developing sustainable tree-based bioenergy systems in sub-Saharan Africa
ICRAF Strategy on Tree-Based Energy
Charcoal value chains in Kenya: a 20-year synthesis