By Susan Chomba
A new mobile application is bringing the science of monitoring land restoration to the fields of farmers in Africa. The Regreening Africa App is developed under the EU- funded project that goes by the same name. The App helps lead farmers, government extension agents and project officers to collect data on key indicators of land restoration such as number and type of species of trees planted, those that survived over different time periods; the GPS location of tree nurseries and the type of tree species they stock, the polygons and management practices in farmer-managed natural regeneration (FMNR) sites, the trainings offered to farmer groups, including women and youth beneficiaries among other variables.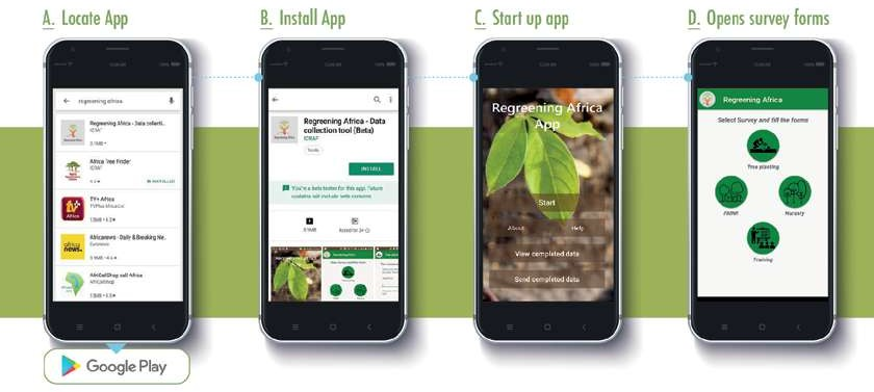 The App is currently being applied across eight countries in Africa where the project is implemented, with the scope for expansion to other countries and projects in the region, including the Great Green Wall initiative that covers a wider geographical scope. It fills a critical gap by providing evidence on where restoration is happening, especially through tree planting and FMNR, how it is happening and for whom. It can help track where exotic tree species are replacing indigenous species and enable actors to take necessary action based on evidence. This level of detail is difficult to attain through other methods such as remote sensing.
Users of the app have access to their data and various analytical outputs through a user-friendly online data-reporting system.
"The beauty about this App is its simplicity. I have used it to record trees on many farms and have been fascinated to see what the data looks like once it is processed," Mohamed Dicko, project officer, Oxfam Mali.
Most countries in Africa have numerous restoration initiatives already started. But monitoring and reporting remains a major challenge at project and even national level.
"We co-designed this simple but effective App with our partners to enable stakeholders who are implementing land restoration activities on the ground to track their interventions, providing real-time monitoring of restoration activities and bringing science-based evidence into the hands of practitioners and fields of farmers," notes Tor Vagen, the head of the Spatial Data Science and Applied Learning Lab at World Agroforestry, ICRAF.
Data collected through the App is freely and instantly available to the data collectors and various outputs from the synthesis of the data, including information on critical land health indicators, is then shared with the public through the Regreening Africa Dashboard.
"The App increases transparency and accountability in the way we implement, monitor and report restoration activities," remarks Leigh Winowiecki, head of soil and land health research at ICRAF. This is crucial in a context where large commitments on restoration have been made globally yet reporting and monitoring systems that are transparent often do not exist or remain underdeveloped.
Project managers find the app useful in reporting their achievements while also providing their teams with an incentive to increase the areas under restoration which they can then proudly review present to external audience.
"I tell the enumerators that the only way we can show our good work is to use the Regreening App," remarked Anna Daba Ndiaye of World Vision Senegal.
"By having users such as lead farmers and extension agents collect data on their land restoration activities, they become an integral part of efforts to scale the assessment and monitoring of impacts of land restoration across a wide range of landscapes. Also, by aggregating and synthesizing this information and combining it with evidence from systematic science-based assessments of land health, we can dramatically improve our understanding of what interventions work best where and for whom" says Vagen.
The App has the potential to be translated into different African local languages, beyond the current English and French versions, to enable an even greater reach of local communities. The App development team is continuously getting feedback from field staff and farmers and looking for ways to improve and scale it.
About the project
Regreening Africa is a five-year project funded by the European Union (EU), through the European Commission. The project seeks to restore one million hectares and benefit 500,000 households in eight countries, including those under Great Green Wall such as Mali, Niger, Ghana, Senegal, Ethiopia and Somalia. Others include Kenya, Rwanda. By incorporating trees into croplands, communal lands and pastoral areas, regreening efforts make it possible to reclaim Africa's degraded landscapes.
Regreening Africa is implemented by a consortium of partners comprising of World Agroforestry (ICRAF), World Vision, Catholic Relief Services (CRS), CARE, Oxfam and Sahel Eco. But most important, the project builds on the knowledge, experience and commitment of hundreds of thousands of smallholder farmers in Africa who are keen to turn the deserts and degraded lands into thriving landscapes.
The project directly contributes to the goals of the Great Green Wall initiative and the AFR100 commitments. Its success, and that of other similar initiatives in the region, implies that the ambition of the Great Green Wall (GGW) is gradually becoming a reality.
This story was produced with the financial support of the European Union. Its contents are the sole responsibility of Regreening Africa and do not necessarily reflect the views of the European Union.