Leading farmers like Beatrice Mukagasarabwe are driving regreening of degraded agricultural land in the country.
By Charity Uwase*
Beatrice Mukagasarabwe, 38, is a champion farmer in her village of Kadebo, Bugesera District in Rwanda. An environmental enthusiast, she has been practising regreening and supporting other farmers in her village to follow suit.
For the past 4 years, she has been supporting other farmers to produce tree seedlings, to plant trees and manage them and to conserve soils. She mobilizes farmers during the tree-planting season, guiding them on where to find quality seedlings, how to plant them and how to monitor their progress. She also encourages female farmers to take the lead.
As a result of her work, Mukagasarabwe was selected to be a leading farmer in her community.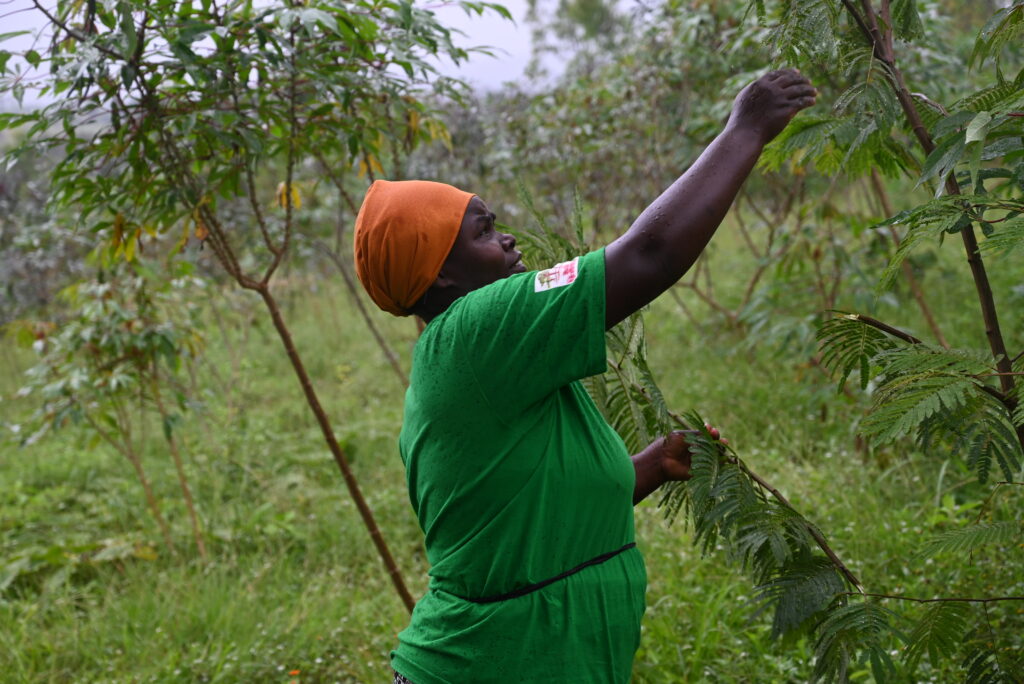 Beatrice uses Calliandra leaves to feed her cows
World Vision Rwanda through the European Union-funded Regreening Africa project, which is led overall by the Center for International Forestry Research and World Agroforestry (CIFOR-ICRAF), has been supporting leading farmers like Mukagasarabwe through building their capacity in tree-seedling production, good tree-management and soil-conservation practices. Leading farmers are also provided with basic equipment, like bicycles, to facilitate their movement between the farms.
'Since I started working with Regreening Africa and World Vision, my mindset has changed and I now believe that women can also participate in landscape restoration,' said Mukagasarabwe.
She has also implemented regreening practices on her own farm.
'My crop yields have increased as a result of incorporating good agricultural practices' she said. 'I also get fodder from trees like calliandra [Calliandra spp], which I have on my farm, and I also prune the tree branches for firewood.'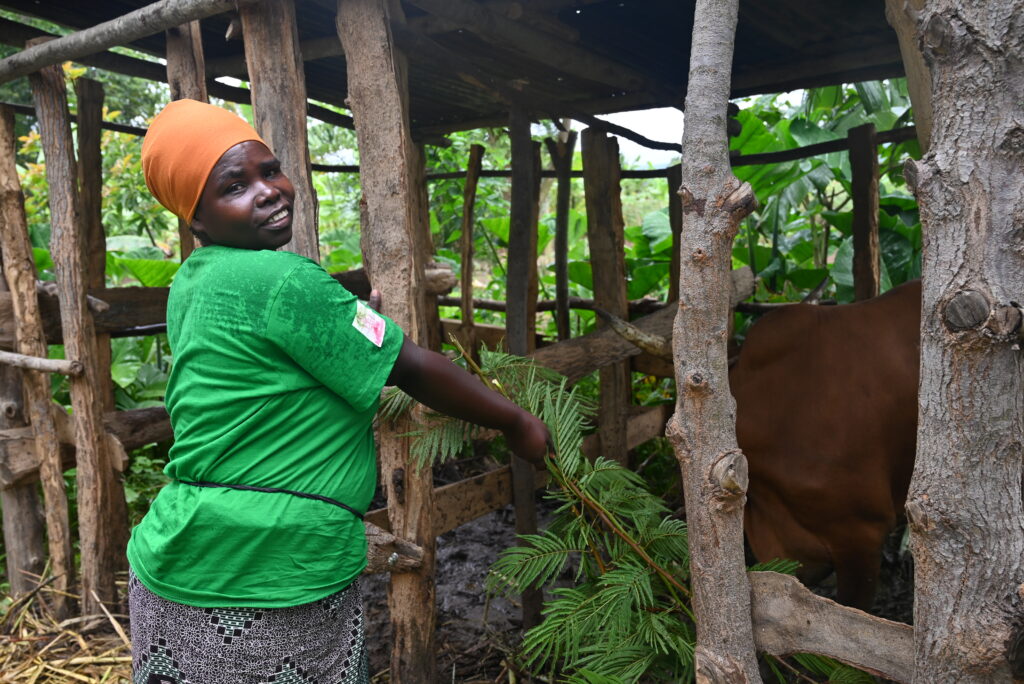 Beatrice feeding one of her cows with Calliandra leaves
Mukagasarabwe also attests that using the leaves of gliricidia (Gliricidia sepium) as manure has increased her agricultural production. She prunes the trees during cultivation and the leaves add nutrients to the soil.
'Previously, I used to get less than 50 kilogrammes of both maize and beans from my one hectare of land,' she said. 'But once I started incorporating good agricultural practices, my yields have increased tremendously. I now harvest over 500 kilogrammes of maize and beans from the same piece of land.'
She has also incorporated fast-growing fruit trees, such as grafted avocados and papayas, in her farm and receives extra income from selling the fruits. Her children also have access to nutritious fruits whenever they want.
'My children are healthier and have a strong immunity because they eat these fruits,' she said. 'Not only has this reduced my expenditure on buying fruits but it has also increased my income from selling the fruits.'
Mukagasarabwe demonstrates that the benefits of land restoration practices are numerous, particularly for women. She observes that because they now have trees around their homestead and prune the branches for firewood, the time women and children spend looking for firewood had decreased.
'We now use the time we used to spend collecting firewood to do productive work,' she said.
Practising agroforestry has not been without its challenges, however. It has been difficult, especially for women, to decide on the type of trees to grow on their farms because men only want trees that provide timber. Mukagasarabwe believes that men and women must agree on the type of trees to plant in order to increase diversity. She notes that with grevilia (Grevilia sp), for example, pruning provides wood for firewood while the leaves provide manure for the soil. Fruit trees, on the other hand, provide a source of nutrition for the family as well as a source of income from the sale of the fruits.
'We try to make sure that the men understand the importance of land restoration through community mobilization and dialogue so that both men and women support each other on these issues,' she said.
Mukagasarabwe encourages women to participate in land restoration because their efforts are needed, they are capable and planting trees such as fruit trees helps with family nutrition.
* Charity Uwase is a communications officer with World Vision Rwanda
Regreening Africa is a five-year programme (2017–2022) funded by the European Union to reverse land degradation across 1 million hectares and benefit 500,000 households in Ethiopia, Ghana, Kenya, Mali, Niger, Rwanda, Senegal and Somalia. The programme is implemented by World Agroforestry (ICRAF) along with consortia members World Vision, Catholic Relief Services, Cooperative for Assistance and Relief Everywhere (CARE), Oxfam and Sahel Eco.
This story was produced with the financial support of the European Union. Its contents are the sole responsibility of Regreening Africa and do not necessarily reflect the views of the European Union.