By Marion Aluoch
Members of the Kopanyaka cooperative and beekeepers in the Nyagashanga cell of the Nyagatare District, comprising of 20 men and 15 women (inclusive of 10 youth), have relied on beekeeping for 15 years as a source of livelihood. With 153 traditional and 22 modern beehives, their honey production was always minimal, and the returns were not impressive.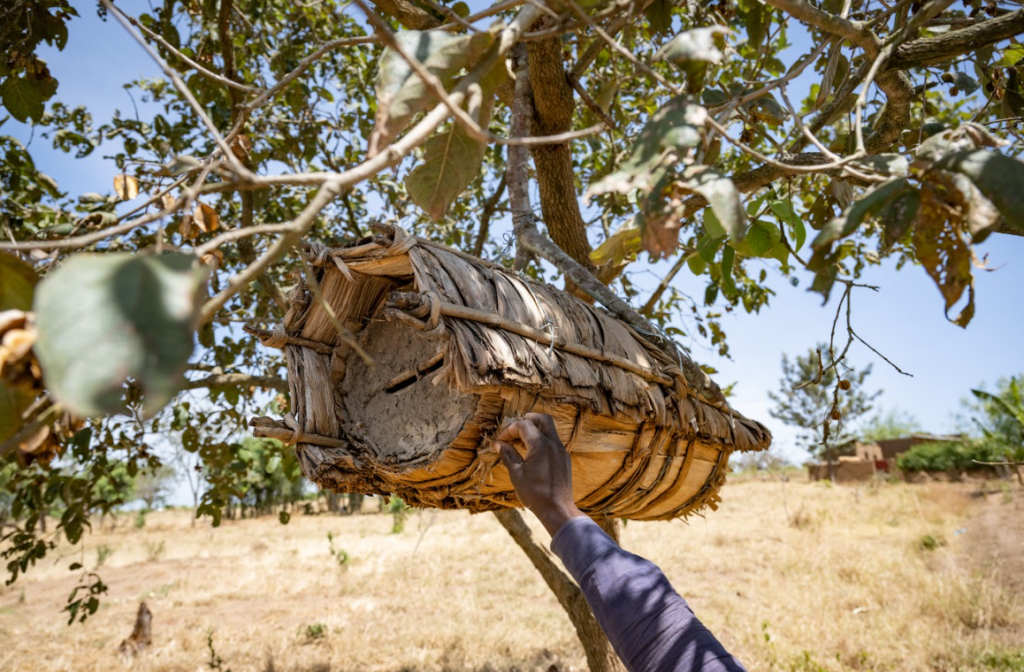 A traditional beehive in Rwanda. Photo: Regreening Africa/Kelvin Trautman.
"We faced a number of challenges, including honeycomb damage, tree cutting, and a lack of local beekeeping knowledge," says Innocent. "The honey harvested was also insufficient. We would harvest about 100 kg of honey from the hives and sell it at 1,500 Rwandan Franc (RWF) (about USD 1.4) per kilogram due to a lack of available markets," says Innocent Ntaboninyara, the leader of the cooperative group.
To increase output and increase their income, a radical transformation was therefore required; this took the form of training.
As part of the Regreening Africa project interventions, World Vision Rwanda technical staff and lead farmers from beekeeping cooperatives participated in a 5-day apiculture training workshop. The training covered a range of topics, including locating the apiary, managing the colony, maintaining records, stocking the hives, developing honey value chains, field trips, and hands-on training in hive stocking, honey testing, queen rearing, and packaging. Grace Koech, a researcher at CIFOR-ICRAF, and Willy Mwiza of the Rwanda Agricultural Board led the training.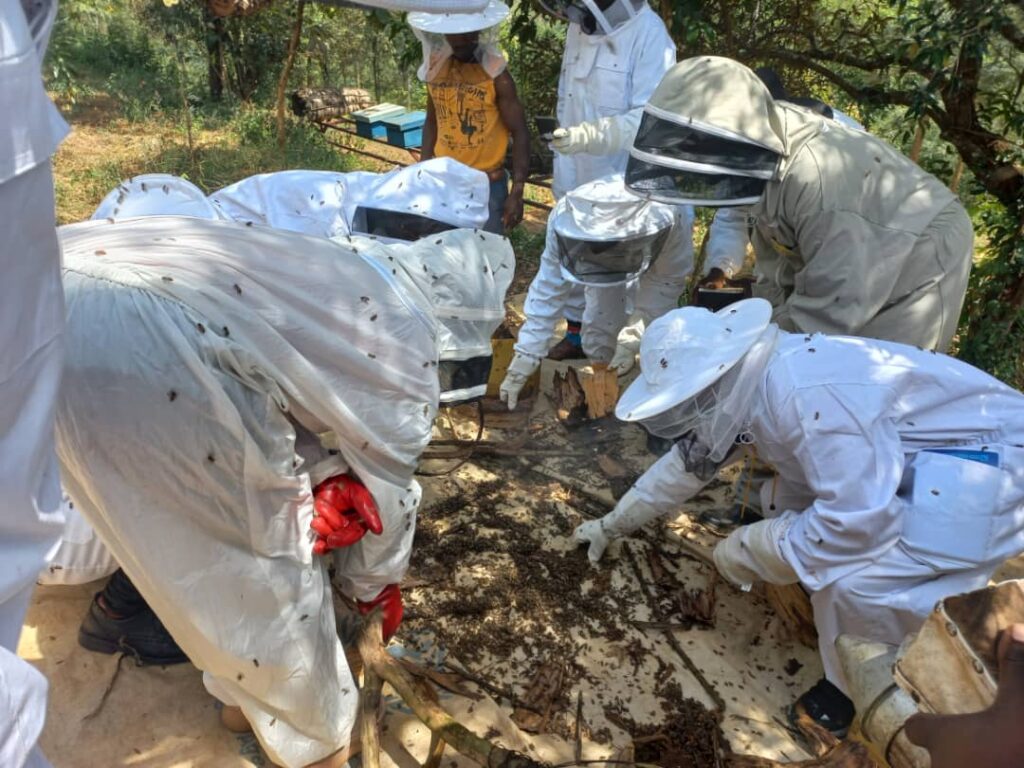 Hands-on-training during the beekeeping training offered to World Vision Rwanda technical staff and lead farmers from bee keeping cooperatives. Photo: Regreening Africa/Grace Koech.
According to Sammy Carsan, an Agroforestry Scientist  at CIFOR-ICRAF, "increased tree diversity contributes to a strong bee colony and quality and quantity of bee products. Training restoration champions on beekeeping thus enables them to integrate suitable species that play different roles within the apiary, contributing to livelihoods and restoration goals."
Following the training, the cooperative put what they had learned into practise in their apiaries, which resulted in observable improvements. The amount of honey that they produced increased, and in addition to that, they were able to price their honey well.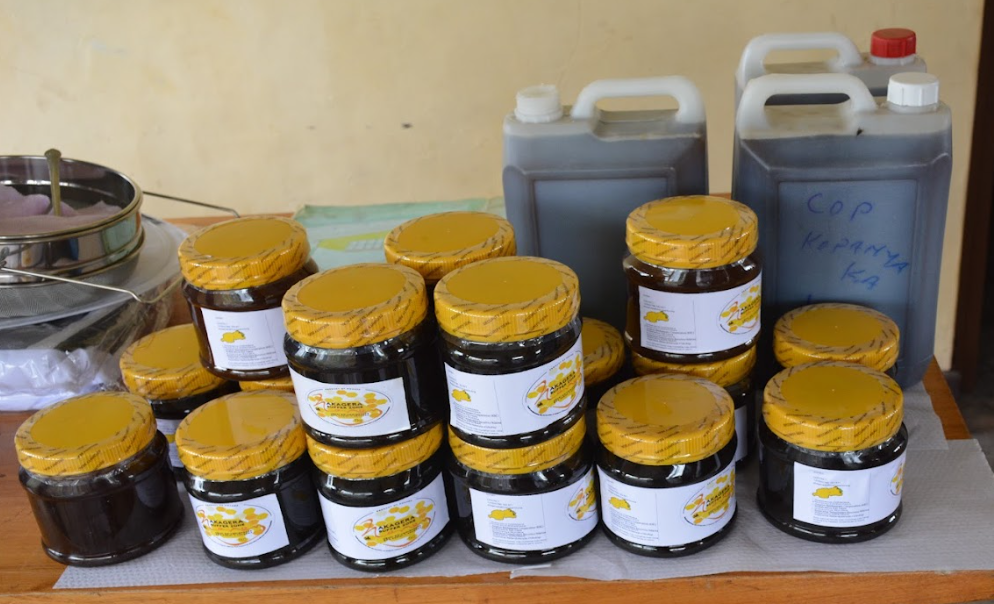 Well packaged honey. Participants at the beekeeping training were also trained on processing, packaging, labeling, and marketing of honey. Photo: Regreening Africa/Marion Aluoch.
"The training was eye-opening. The amount of honey we produce has increased. We now harvest over 400kg of honey per season. After learning how to cost the honey, we now sell it at 5,000 RWF (about USD 4.6 ) per kilogram," declares Innocent.
The cooperative also expanded the customer base from going to different locations and participating in a variety of events, to selling their products in shops and supermarkets in the capital city of Kigali and the neighbouring districts.
Innocent Ntaboninyara, the leader of the Kopanyaka cooperative, displays packaged honey to Grace Koech, CIFOR-ICRAF. Photo: Regreening Africa/Marion Aluoch.
Quality is still at the heart of their production, and as a cooperative, they make certain that they meet the standards set.
"At the District level, we have a union of beekeepers that helps to check on the standards of the products," said Innocent. "Members of the cooperative help to ensure that we maintain the quality of our honey production, which is important because consumers are drawn to products that have a high level of quality."
The community is undergoing a rapid shift in their perspective on beekeeping, and a growing number of individuals are beginning to engage in beekeeping as a business venture. This has resulted in an increase in honey production, which has led to increased income and improved living conditions.
The development of beekeeping is supported by the government of Rwanda through the formulation of policies such as the Strategic Plan for the Transformation of Agriculture in Rwanda (Phase IV 2018-2024), which recognises beekeeping as a priority in animal resources production systems due to its multiple contributions to food security, nutrition, rural incomes, and biodiversity conservation. In addition, beekeeping activities on farms receive support from government institutions, local NGOs, and international NGOs.
Implemented by World Vision Rwanda with technical assistance from World Agroforestry (ICRAF), Regreening Africa promotes farm diversity by encouraging farmers to grow and manage diverse tree species and the development of value chains, resulting in restored ecosystems, improved livelihoods, and increased farm productivity. This has resulted in an increase in honey production, which has led to increased income and improved living conditions.
 Regreening Africa is a five- and half-year programme (2017-2023) funded by the European Union that seeks to improve livelihoods, food and nutritional security, resilience to climate change and to restore ecosystems services through evergreen agriculture. In Rwanda, the programme operates in Bugesera, Kayonza, Gatsibo, and Nyagatare Districts of Eastern Province and seeks to reach 70,000 households  adopting evergreen agriculture practices over an area of at least 100, 000 hectares.
This story was produced with the financial support of the European Union. Its contents are the sole responsibility of Regreening Africa and do not necessarily reflect the views of the European Union.