Farmers have learned how to improve soil fertility, leading to increased yields and more savings for reinvestment.
 By Abena Agyei-Boateng*
John Akurugu, 42, a farmer in Yelewoko Community, Bawku West District in Ghana's Upper East Region, had been clearing and burning shrubs for years to prepare his land for cultivation. As a result of the declining soil fertility, he became overly reliant on chemical fertilizers to achieve yields that were nonetheless never sufficient.
The yields from his 6 acres (2.43 hectares), where he grew maize, guinea corn, cow peas and rice, were never enough to sustain his family of four from one planting season to the next.
However, after World Vision Ghana through the Regreening Africa project introduced the concept of farmer-manager natural regeneration (FMNR) to his community, Akurugu and fellow farmers are now experiencing a transformation in terms of land preparation. FMNR is a key contributor to regreening areas degraded by agriculture, overgrazing, bushfires and other deforestation-accelerating activities.
Akurugu is one of 20 leading farmers who received training in FMNR and preparation of compost.
'We were taught the value of having trees and shrubs on our farms,' he said, 'as well as the dangers of burning farm residues during land preparation, which kills beneficial soil micro-organisms and destroys soil organic matter etc. We also discovered that our yields were low because of these practices, making it impossible to feed our families.'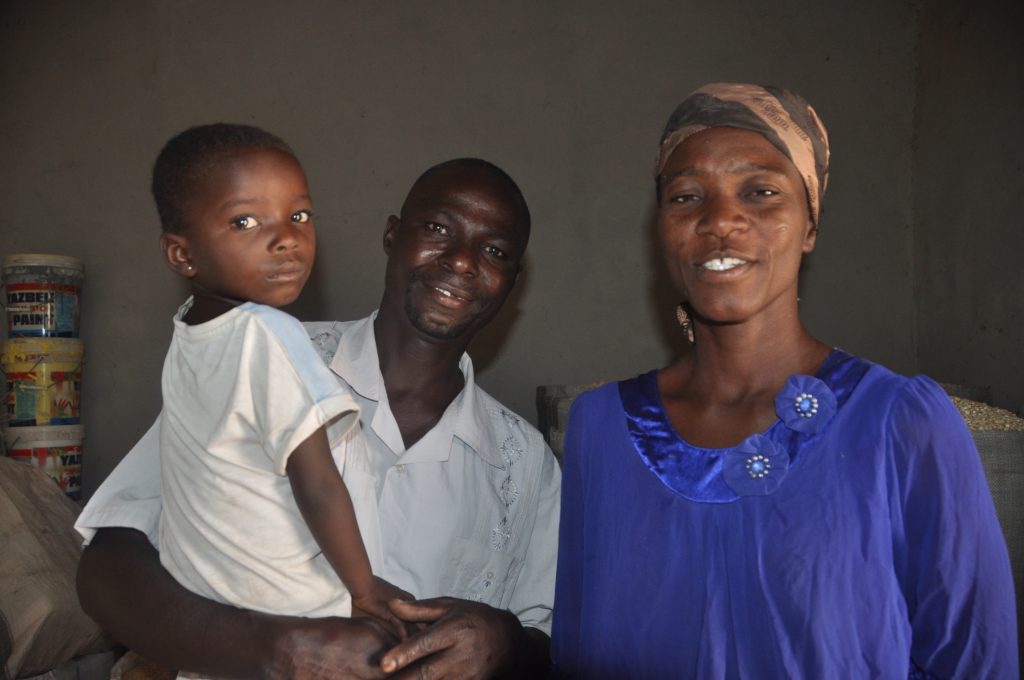 John Akurugu with his wife and daughter. Photo: World Vision Ghana
Farmers were taught how to prune shrubs on their farmland to improve soil fertility and increase tree density, as well as how to make compost from farm residues and kitchen waste to enrich soils for increased yields.
'I was particularly interested in compost preparation because I didn't want to waste my limited funds on chemical fertilizer,' said Akurugu.
He started preparing compost with any organic materials he could lay his hands on. He would then spread it on his farm during land preparation.
'At first, I reduced the number of bags of fertilizer used until I no longer used them,' he said, 'and the yields have increased.'
To avoid declining soil fertility, communities have now realized the importance of composting. As a result, farm residues, grasses, manure and other organic wastes are being used to improve soil fertility and production.
Before the training, Akurugu would only reap three bags (300 kilograms) of maize from the three acres he had set aside for the crop. He now reaps nine bags (900 kilograms) from the same piece of land without using any chemical fertilizers, thanks to proper land preparation, including composting.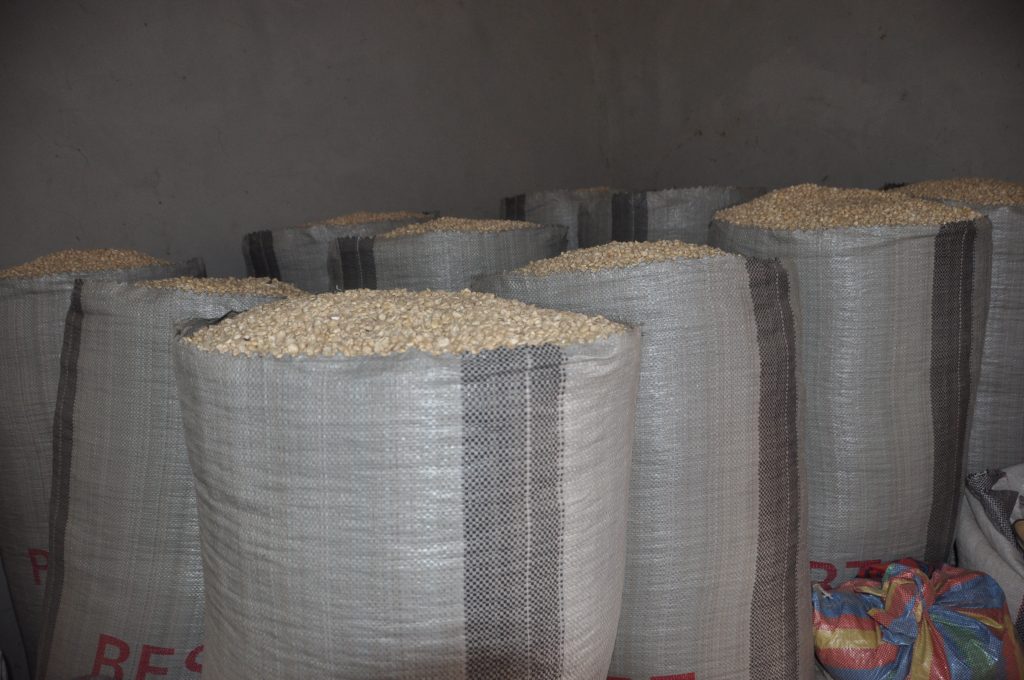 John's maize yield has increased from three bags to nine bags as a result of proper land preparation, which includes the use of compost. Photo: World Vision Ghana
'I now have more than enough food for my family to last us from one planting season to the next,' he said.
To diversify his income, he sells some of his farm's produce and has ventured into animal rearing. He now has 30 guinea fowls, six hens with 15 chicks, three cocks, four sheep, five goats and ten rabbits.
John  shows off one of his rabbits. Photo: Wolrd Vision Ghana
He was able to sell some of the guinea fowl eggs and joined a savings group introduced to him by the project. World Vision Ghana uses these groups as a channel for creating awareness and scaling up the recommended regreening practices, while enhancing local livelihoods.
'As a member of the savings group, I borrowed and added money to buy bullocks and supplies to increase my production,' he said. 'Thanks to World Vision and Regreening Africa, we have the knowledge and skills to improve our livelihoods.'
Regreening Africa, a European Union-funded project, is led by World Agroforestry (ICRAF) and implemented in Ghana by World Vision and Catholic Relief Services. The project is in its fifth year of implementation in the Upper East Region (Bawku West and Garu Tempane districts) and the Northern Region (Mion District), where a total of 80,000 hectares are targeted for regreening, benefiting 40,000 households, with the aim of improving their livelihoods, food security and resilience to climate change by restoring ecosystem services, particularly, through agroforestry.
* Abena Agyei-Boateng is a communications officer with World Vision Ghana
This story was produced with the financial support of the European Union. Its contents are the sole responsibility of Regreening Africa and do not necessarily reflect the views of the European Union.