By Regreening Africa

As a large-scale, multi-country, multi stakeholder restoration initiative, Regreening Africa offers a unique opportunity to generate actionable lessons on restoration efforts. In our new guide, Performance of Indigenous Tree Species in the Sahel, we unpack why the growing of native tree species to improve the sustainability and productivity of the drylands in the Sahel must be promoted and how rural communities and economies in Sub-Saharan countries can greatly benefit from investments strengthening the agroforestry and forest products sectors.
The guide is a synthesis of the most effective management practices, which include the preparation of the land as well as agronomic and silvicultural methods for the most efficient production of the desired wood and non-wood products as well as environmental services. In addition to this, it highlights the food and nutritional possibilities, as well as the socio-economic functions, that are offered by a variety of tree species, as well as their silvicultural qualities and growth.
We hope that the information provided will inspire the most effective ways to move forward with increasing the number of native trees planted in the Sahel and across the continent.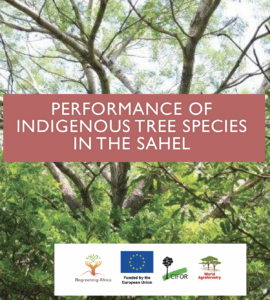 The guide is available here
This story was produced with the financial support of the European Union. Its contents are the sole responsibility of Regreening Africa and do not necessarily reflect the views of the European Union.