Husbands helping with household chores after Gender Transformative Action training in Ghana has raised some eyebrows and delighted participating wives.
 By Marion Aluoch
Ayidanbil Awini, 40, and his wife Nongoligo hail from Nosgua community, Bawku West District, Ghana. Each of them had clear-cut roles in their household as a wife and husband. To deviate from such norms, could bring ridicule, especially for the man.
For instance, Ayidanbil could never cook or even post-harvest millet. The gender roles in Nosgua community were clearly defined and followed long-held traditions.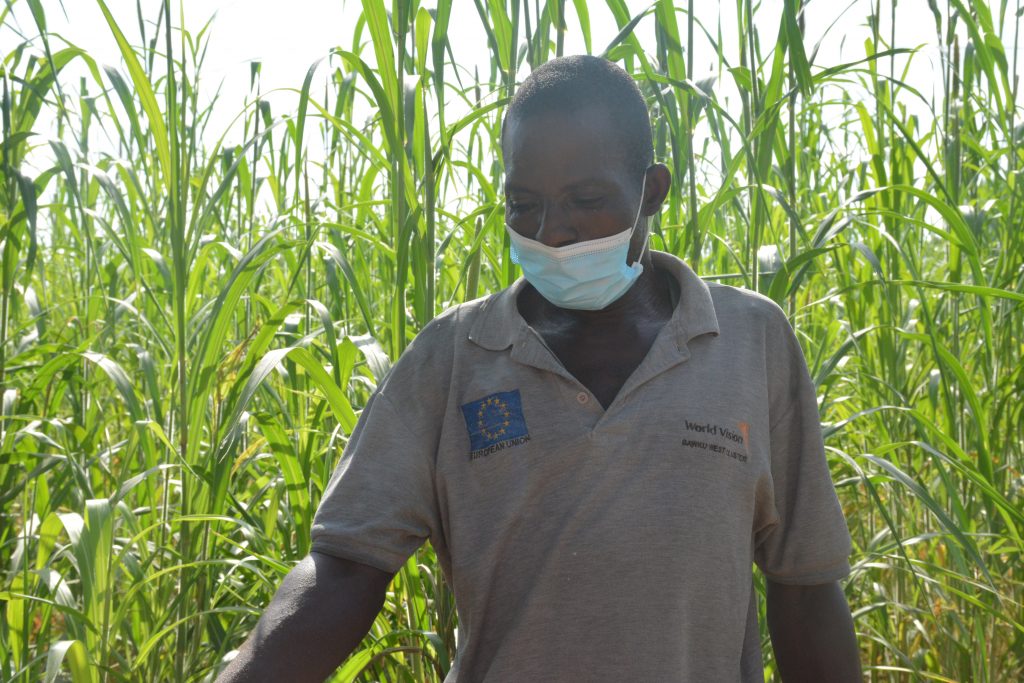 Ayidanbil Awini, participated in the gender transformative apprach training, that challenges gender norms and attitudes. Photo: Regreening Africa/Marion Aluoch
However, the Gender Transformative Action training in Bawku West that was given to many couples in mid-2019 has been quickly challenging these formerly firmly held roles. Ayidanbil and his wife were among the couples trained in these workshops.
Ayidanbil said that the training he underwent in 2019 was revealing.
'Our capacities were strengthened on how to happily co-exist with our wives,' he said, 'by sharing roles in farm work and household chores, resources and decisions without any inhibitions.'
One hundred and fifty couples were trained by the Forestry Research Institute of Ghana with support from World Vision Ghana and World Agroforestry (ICRAF) under Regreening Africa.
The training consisted of discussions, group activities and role plays carried out in 15 communities. It was mainly done in the shade of trees.
Before the training, Ayidanbil and other men in their community followed distinct roles for husbands (farm work) and wives (household chores) that are deeply entrenched in local culture and their way of life. For instance, the husband could cut millet while the wife took over gathering and transporting the harvest.
'After the training, we now work together and get work done faster and effectively,' said Ayidanbil, with a broad smile, adding that the training also promoted peace and unity in his home. 'This is the way to live, once we support and discuss with each other, we now understand that as a couple one can get angry over minor issues but it does not have to result to a quarrel.'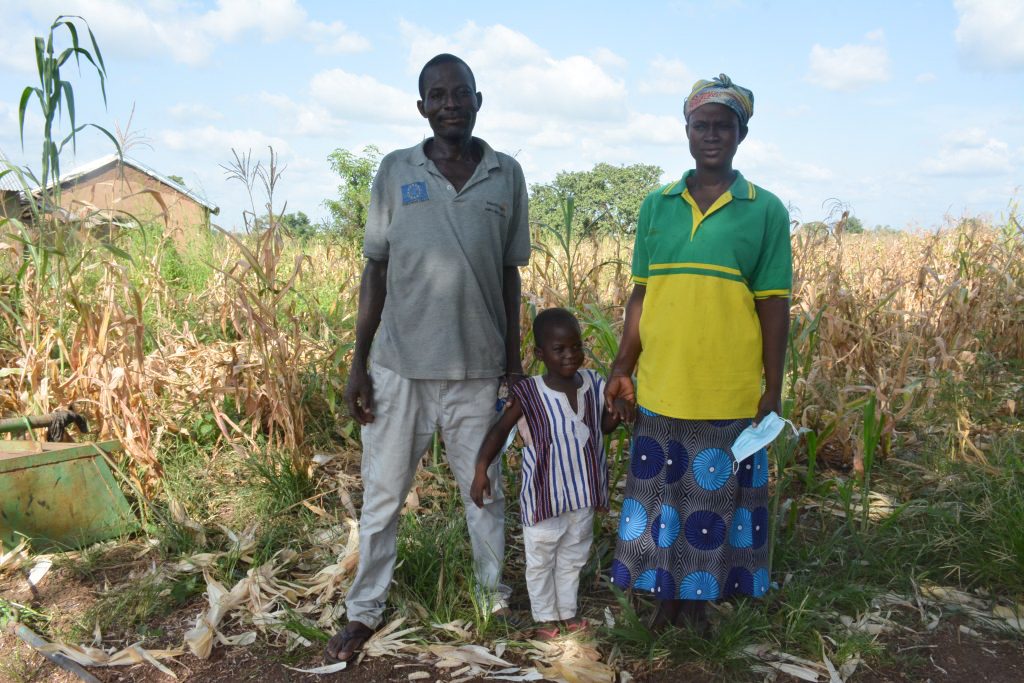 Ayidanbil with his wife Nongoligo and their young son at their home in Nosgua community. Photo: Regreening Africa/Marion Aluoch
Nongoligo said that her husband now appreciates that quarrelling is detrimental to peace.
'We now value living together peacefully,' she said.
Bawku West District, where Ayidanbil's Nosgua community lives, is largely a patriarchal society. As a result, women do not own or inherit land and traditionally they have a limited role in land management. However, this phenomenon can be altered with a change of perception among men and women.  Nongoligo revealed that after the gender transformative action training her husband allocated her a portion of the homestead farm — which is the most valuable and is normally reserved for men only — to cultivate her choice of crops for domestic use.
Regreening Africa supports gender-equitable policies and practices to empower women and girls by promoting economic and social rights that strengthen their voice and participation. Shifting the dynamics of the patriarchal system requires change in strongly held traditions. Therefore, changing behaviour at household level gradually leads to a transformation across the community. To meaningfully address gender in land restoration, an innovative study using Gender Transformative Approaches is being undertaken to determine whether deliberate interventions targeting underlying gender constraints — norms and attitudes — influences land-restoration outcomes.
The study, led by Gloria Adeyiga, as part of Regreening Africa's efforts to integrate gender transformative action, underscores the importance of creating an enabling environment. This is in addition to having a well-formulated structure to tackle gender and power relations through proactive and voluntary engagement of both men and women.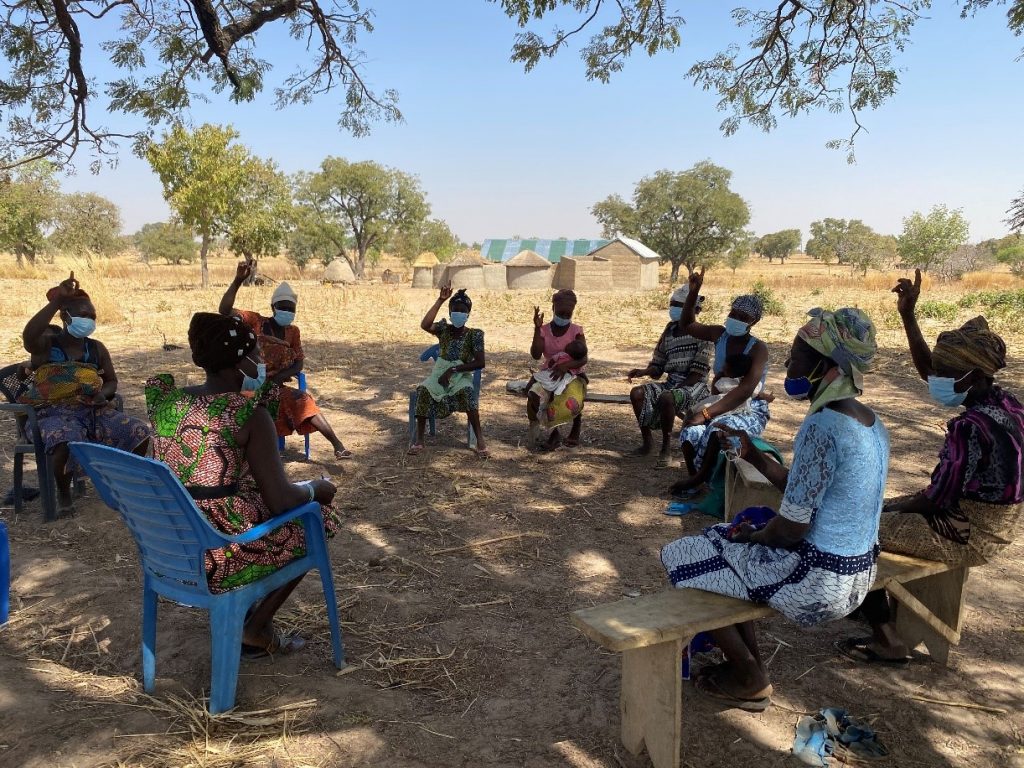 Women taking part in the gender transformative approach training at Adonsi community. Photo: Gloria Kukurije Adeyiga
A recent cross-cutting learning event on gender transformative approaches revealed that some countries have already adopted the practice, demonstrating the importance of empowering and mainstreaming women in landscape restoration. In Senegal, for example, it was noted that women have access to farmland and have integrated trees into their croplands to encourage and empower women's participation in landscape restoration.
'Before the training, my husband saw chores and some farmwork as a duty for women; not something he would do willingly,' said Nongoligo, adding that in the past her husband did not take part in helping with household chores, often insisting that it was a woman's responsibility.
Shortly after the training, Ayidanbil's perception of wife/husband roles drastically changed. He started to eagerly assist with household chores. However, the change in the couple has not been taken kindly by some community members.
'When some women see how happy we are, they say I have bewitched my husband,' she said, with laughter. 'But I don't mind what they say because it is through the training that my husband has had a change of mindset.'
The couple were also trained on how to use farm residues, grass and organic materials to prepare nutrient-rich compost. They have prepared a compost pit for use in the farming season to enrich soils for increased yields. This is a component of Regreening Africa that is being implemented by World Vision and Catholic Relief Services in Ghana.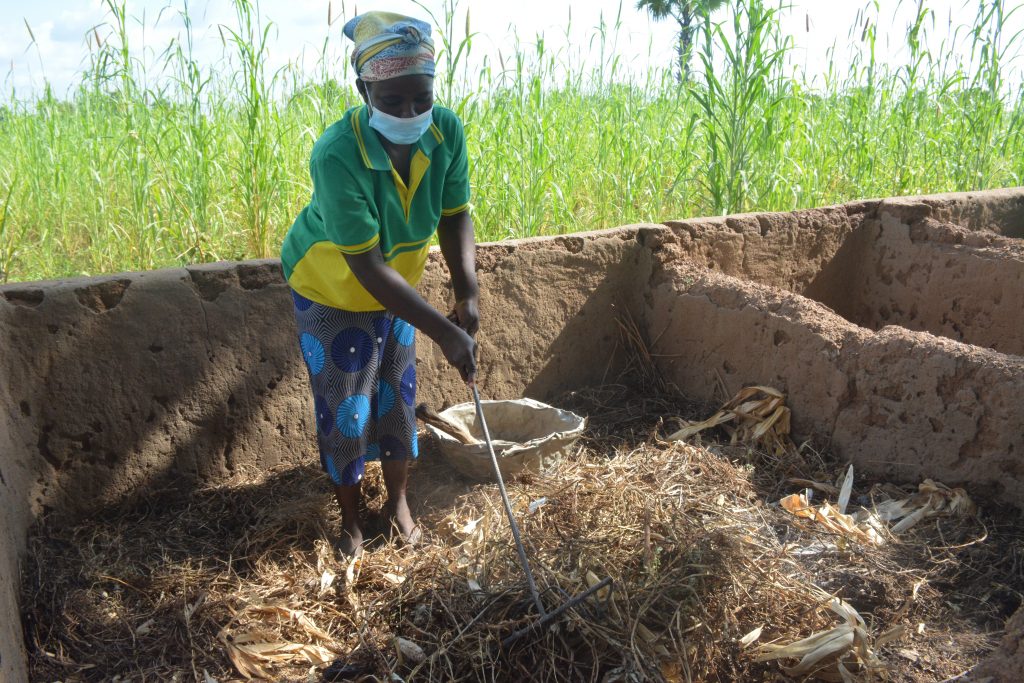 Nongoligo making compost pit at her home. The community was trained on how to use farm residues, grass and organic materials to prepare compost pit. Photo: Regreening Africa/Marion Aluoch
About the project
Regreening Africa is a five-year project funded by the European Union (EU), through the European Commission. The project seeks to restore one million hectares and benefit 500,000 households in eight countries, including those under Great Green Wall such as Mali, Niger, Ghana, Senegal, Ethiopia and Somalia. Others include Kenya, Rwanda. By incorporating trees into croplands, communal lands and pastoral areas, regreening efforts make it possible to reclaim Africa's degraded landscapes.
Regreening Africa is implemented by a consortium of partners comprising of World Agroforestry (ICRAF), World Vision, Catholic Relief Services (CRS), CARE, Oxfam and Sahel Eco. But most important, the project builds on the knowledge, experience and commitment of hundreds of thousands of smallholder farmers in Africa who are keen to turn the deserts and degraded lands into thriving landscapes.
The project directly contributes to the goals of the Great Green Wall initiative and the AFR100 commitments. Its success, and that of other similar initiatives in the region, implies that the ambition of the Great Green Wall (GGW) is gradually becoming a reality.
This story was produced with the financial support of the European Union. Its contents are the sole responsibility of Regreening Africa and do not necessarily reflect the views of the European Union.