After training, farmers have realised the benefits of trees and have changed their behaviours for the betterment of their own livelihoods and the future of their children and grandchildren.
 By Marion Aluoch
A 30-year-old farmer from Adonsi community, Bawku West District in Ghana is full of excitement as he narrates how agroforestry training has transformed his life.
Christopher Mba Abugre was among 2000 farmers in his community who were trained by agricultural extension agents of World Vision Ghana in 2018 on appropriate pruning techniques, tree planting and wildfire management. The skills the leading farmers received were expected to have a trickle-down effect to other community farmers.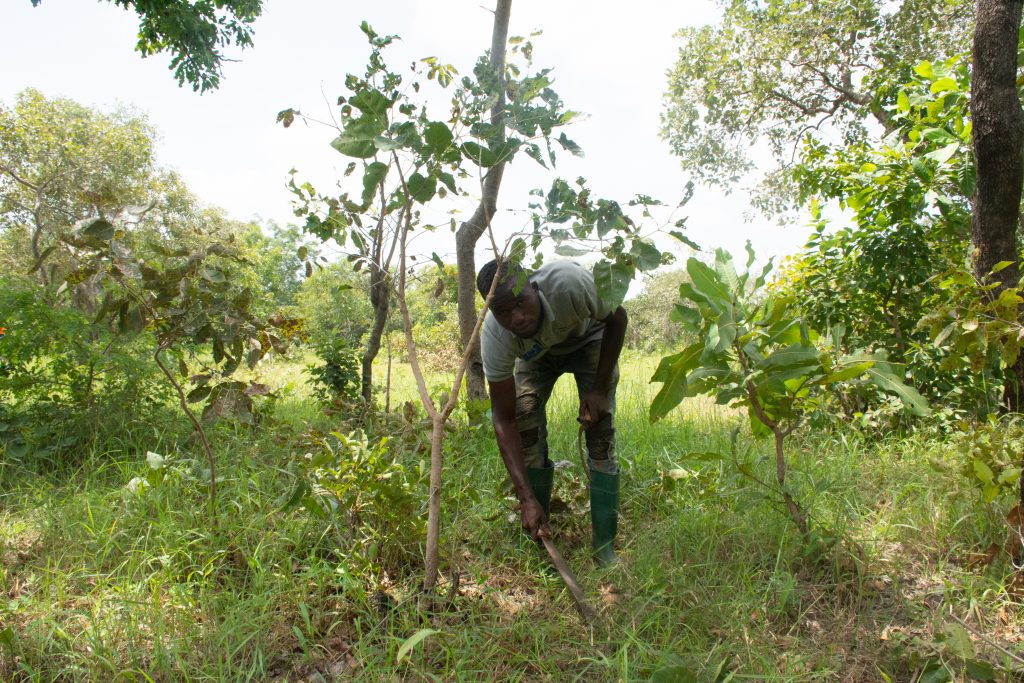 Christopher Abugre, embraced  FMNR and now appreciates the importance of trees. Photo; Regreening Africa/Marion Aluoch
'We were trained on proper tree planting and management,' said an elated Abugre. 'In addition, we acquired skills on pruning of trees. The project supported us with pruning knives, cutlasses, sickles and wellington boots.'
Farmer-Managed Natural Regeneration (FMNR) and evergreen agricultural practices were taught to the farmers. FMNR is the systematic regrowth and management of trees and shrubs from felled tree stumps, sprouting root systems or seeds. The regrown trees and shrubs increase tree cover across landscapes. More trees in landscapes generate greater carbon sequestration, increased biodiversity and provide nutrients, such as nitrogen, to the soil.
Through FMNR, farmers are encouraged to manage regenerated indigenous tree species on their farmland rather than planting new trees. The trees they manage can serve a variety of purposes, depending on the farmers' needs and the species being regenerated, such as providing sustainable sources of firewood, increasing soil fertility for crop production, providing fodder for animals and leaves and other trees products for human food, creating products to sell, like timber, and reducing floods, wind damage and improving soil health.
The community was convinced that it was in their best interest to replace environmentally destructive practices like cutting down trees and burning to clear land with restorative ones like FMNR thanks to the knowledge and skills they had gained.
Abugre noted that the community already appreciated the benefits of trees, such as addition of nutrients to the soil when the leaves fall, acting as manure and providing shade for livestock and the community. He added that through the training they also learned the different types of trees and their specific benefits. For example, mahogany leaves were medicinal while teak provides timber for building.
The onset of the dry season in the region covering Bawku West District is often marked by bushfires owing to the dry and flammable nature of the savanna woodland and the local practice of burning. Initially, there was rampant burning of bushes and haphazard cutting of trees by the community. However, owing to farmers' sensitisation to the effects of these fires on the environment, agriculture, weather and climate and farmers' properties, there has been a dramatic drop in the incidence of fires in the district.
The community lacked skills for the proper pruning of trees. They cut trees and cleared bushes to gather firewood. Now, the community uses prunings for firewood.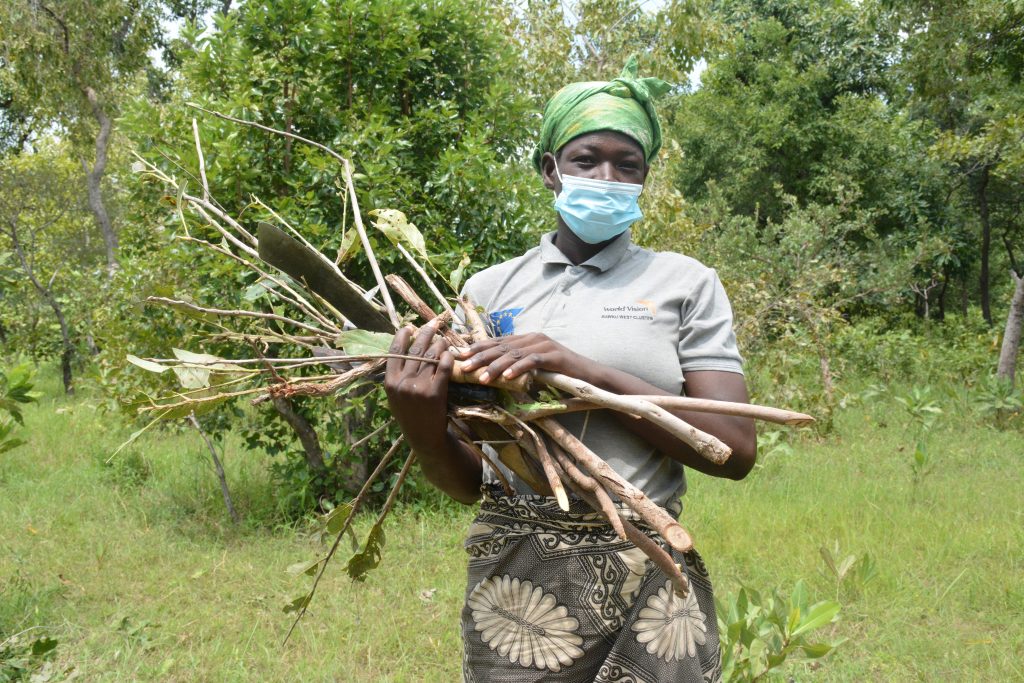 Avocbila, is a farmer in Adonsi community and has embraced FMNR because she gets a sustainable source of firewood. Photo: Regreening Africa/Marion Aluoch
'In the past, we thought that bare land was good,' said Abugre. 'But now we know that such exposed land causes land degradation.' The farmers now appreciate that trees are for their posterity: their children and grandchildren will also benefit. 'Trees provide a good environment; when the last tree dies, man also dies,' he said.
FMNR focuses not only on restoring degraded land but also on changing individuals and communities' mindsets and behaviours. This means addressing harmful beliefs about trees and the environment and developing an alternative viewpoint: that working with nature provides more productive and long-term results. As a result, FMNR is a powerful tool for social transformation and promoting environmental values.
Regreening Africa, through World Vision and Catholic Relief Services, is in its fifth year of implementation in the Upper East region (Bawku West and Garu Tempane districts) and the Northern region (Mion District), where a total of 80,000 hectares are targeted for regreening, benefiting 40,000 households with the aim of improving their livelihoods, food security and resilience to climate change by restoring ecosystem services, particularly through agroforestry.
This story was produced with the financial support of the European Union. Its contents are the sole responsibility of Regreening Africa and do not necessarily reflect the views of the European Union.